Year 1 Living Eggs
Year 1 Living Eggs
20 March 2018 (by admin)
Over the past few weeks in Year 1, we have been incubating and hatching live chicks!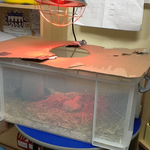 We were all very worried that they wouldn't make it due to the extremely cold weather we have experienced. Fortunately, one strong, little chick has hatched and we are pleased to say that he is doing well. He will be returned to his owner this week and we will all be sad to see him go.
We have really enjoyed learning to care for the chick and learning about the features that define birds (and other animal groups) in such an engaging and interactive way.