French Day and Picnic Lunch
French Day and Picnic Lunch
27 June 2018 (by admin)
On Friday 6th July we are having a French Day and Picnic Lunch. Please see below for further details.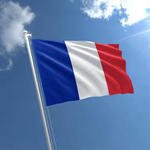 All children are invited to come to school dressed in the colours of the French flag the 'Tricolore' - red, white and blue. There will be no charge for this event.
On the same day the kitchen will be making a picnic lunch (please note that hot food will not be available.) If your child would like a picnic lunch please make payment in the usual way via www.parentpay.com
KS2 will also be taking part in French themed activities during the day.