Charity Jogging in June
Charity Jogging in June
8 July 2020 (by admin)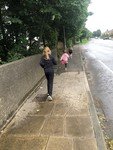 Well done to Casey, Lilly and Lydia who all ran a massive 50 kilometres throughout June to raise money for Hope Pastures horse and donkey sanctuary. So far they have raised over £420!
Hope Pastures are so grateful that they have invited the girls for a tour of the sanctuary and to have pictures taken to say thank you on their website.
They did amazing, running in all weathers, we are really proud of them all.