Year 3 Christingle Service
Year 3 Christingle Service
7 December 2018 (by admin)
On Wednesday 5th December, all the children in Year 3 went to Aldersgate Church to take part in a Christingle service.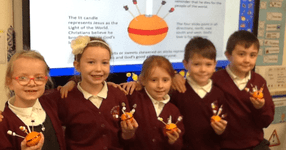 As part of our religious education lessons, the children have learnt about the importance of the Christingle in the Christian calendar. This year is a very special one for Christingle as it is 50 years since the first Christingle service for The Children's Society was held in this country, at Lincoln Cathedral on 7th December 1968.
The children have learnt that the Christingle means 'Christ's Light' and that it is used to celebrate Jesus as the 'Light of the World.' Everyone made their own Christingle in school using an orange decorated with red tape, sweets and a candle. The children wrote prayers and sang songs to celebrate this special event .
The service was led by Reverend Richard and we would like to thank him and Aldersgate Church for making us feel welcome.