School Uniform
School uniform creates a neat personal appearance, a sense of pride and belonging, which together promotes an image of the school that is recognised and respected within the school community. The governors of the school expect and appreciate full parental support and co-operation in this matter.
We believe that school uniform is important as it:
creates a sense of identity and belonging to the school
looks smart, wears well and is comfortable, being designed with health and safety in mind.
takes away the need for children to decide what to wear on a daily basis
promotes equality
Click on the link to view the School Uniform Policy.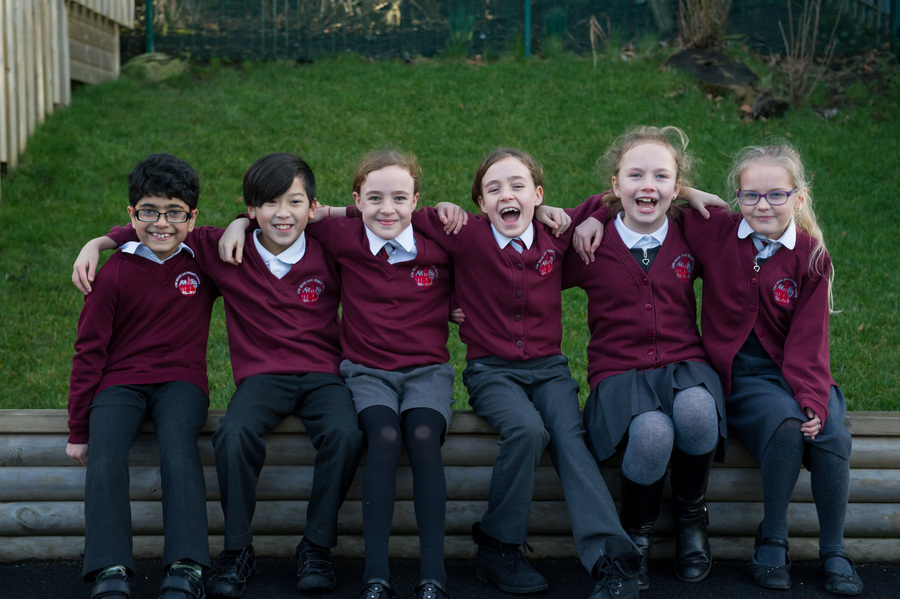 School Uniform
Grey skirt or pinafore dress.
Grey smart trousers.
White formal shirt with a school tie or a white polo shirt without a school tie.
Burgundy sweatshirt or cardigan with school logo. (A plain burgundy sweatshirt or cardigan is permitted).
Plain white or grey ankle or knee length socks.
During the winter months, plain tights may be worn in the school colours of burgundy, grey or black.
Smart black school shoes (trainers, platforms, high heels and mules are not permitted).
In the winter months, a plain black boot, without heel or adornment may be worn.
Headscarves worn for religious or cultural reasons should be plain burgundy or grey
Summer Term (after Easter) optional
In the summer months a standard red or burgundy checked school dress may be worn.
In the summer months grey tailored shorts may be worn.
School Bags/PE Bags
School books and equipment must be kept in a Low Moor Book Bag or Rucksack (Year 5 & 6). Sports and fashion bags are not permitted. The undermentioned items are available to purchase via ParentPay.
| | |
| --- | --- |
| Book Bag | £6.50 |
| PE bag | £4.50 |
| Swim Bag | £5.50 |
| Rucksack (Year 5&6) | £13.20 |
| Water Bottle | £2.00 |
Indoor PE Kit
White t-shirt and black shorts
Burgundy/grey tracksuit
Girls may wear a red or burgundy leotard
Black plimsolls
Outdoor PE Kit
White t-shirt and black shorts
Burgundy/grey tracksuit
Outdoor trainers
Uniform Supplier
School uniform is available to order all year round from our recognised supplier:
Sports FX, Victoria Spring Business Park, Wormald St, Liversedge WF15 6RA.
Tel: 01924 923254 web: www.sportsfx.co.uk
Uniform assistance is available to parents/carers who receive certain benefits; please ask at the office for further details.
Name Labels
We are pleased to recommend 'Stikins' name labels to name your child's uniform. The labels stick into clothing and stay in with no need for sewing or ironing. You can order by post, telephone, or online at https://www.stikins.co.uk to help raise funds for school.